Porsche's revolutionary 918 Spyder plug-in convertible will ultimately be known for two mind-blowing achievements: first, for setting the fastest time around the famed Nürburgring Nordschleife circuit for a production car on street tires, at 6 minutes and 57 seconds; and second, for using less fuel than Toyota's Prius hybrid, especially mind-boggling considering the power and performance needed for that first achievement.
Sure, both could never be achieved at the same time in Porsche's new million-dollar halo range-topper. But to offer both capabilities in the same high-end convertible sports car amounts to a radically new automotive paradigm that redefines what it means to be a hypercar—as opposed to a mere super fast supercar.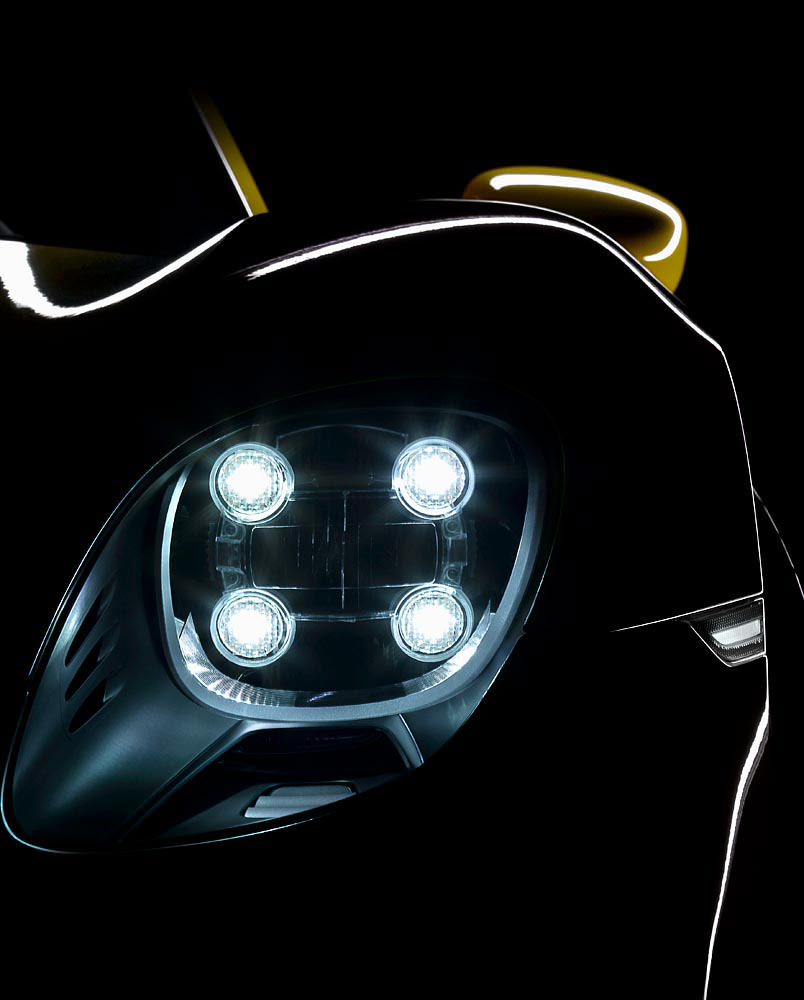 With fuel consumption traditionally the furthest priority from the minds of thrill-seeking sports-car drivers, especially those willing to consider the most expensive new performance machines on the planet, there was no need for Porsche to imbue the latest in a long, well-respected line of race car–based supercars with super frugal fuel efficiency. But that's what the ambitious but performance-oriented engineers at Porsche did, adding two separate electric motors on each axle to offer up a combined 286 horsepower of silent but instant electric motivation, as well as all-wheel drive. If the driver can resist very fast or deep dips into the "gas" pedal (roughly less than 75 per cent), these noiseless motors can keep you going up to 150 km/h without waking up the ominous, 608-horsepower, 4.6-litre V8 behind your head. Offering up a mountainous total of 887 horsepower and an insane 944 lb-ft of max torque, these electric motors, as well as the advanced 6.8 kWh lithium-ion battery, allow Porsche's supercar to offer fuel efficiency that rates among the lowest, bar none, at its 3.1 L/100 km average, according to the New European Drive Cycle (NEDC).
Pushing even further into this green supercar alternate universe, the 918's Weissach performance model rates even more efficiently, averaging 3.0 L/100 km overall, thanks to its 41-kilograms-lighter curb weight. In comparison, the Toyota Prius, generally acknowledged as one of the most fuel-efficient non-plug-in cars in the world, achieves a 3.8 L/100 km combined city and highway fuel-efficiency rating.
That means owners of this supercar may spend less to fuel it than their gardeners do to commute to their home. And perhaps more importantly, the 918 owner can be proud of the car's environmental footprint at any dinner party or meeting.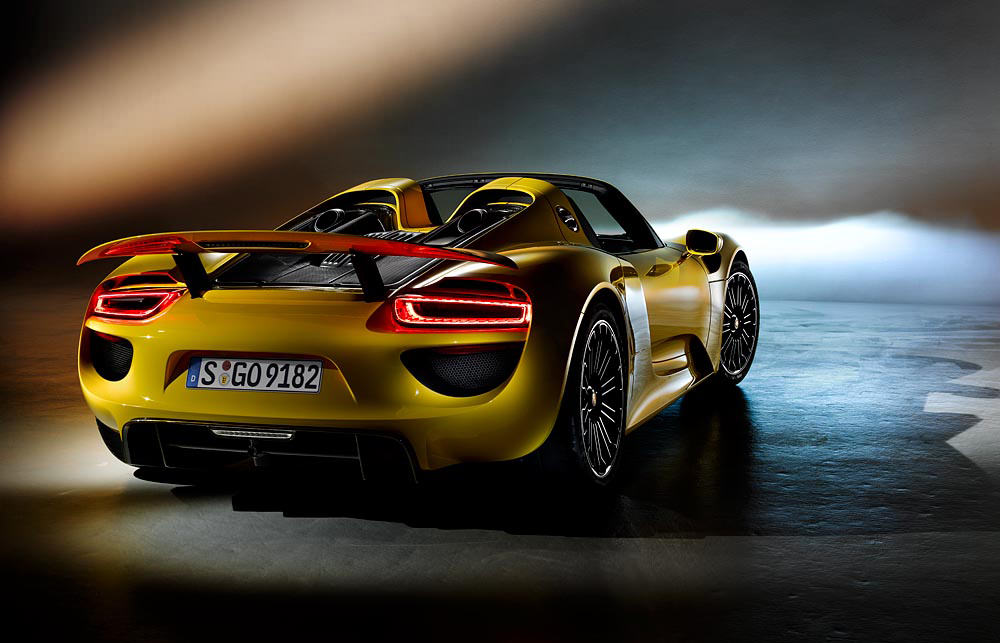 "Nobody needs this much power. Some only want fun on the racetrack, and they say, okay, I'll take the hybrid because it's faster," explains Michael Hoelscher, technical director for the 918 Spyder, who argues that Porsche's new halo car appeals to both traditional hard-core performance enthusiasts and a more socially aware group of owners. "Others want to protect their image, and must not feel ashamed when they are presenting it to someone who says, hey, you're wasting our resources."
So what's this radical plug-in hypercar like to drive? On the streets of Valencia, Spain, during a first drive of the brand new vehicle, it's as if the car is equipped with a tractor beam that pulls people out of buildings and from unseen corners in order to snap a picture, take a closer look, and have a seat in it. Its two carbon-fibre-reinforced plastic roof panels store away in the front trunk, unlike the targa roof panel in the Grand Sport versions of the $2-million-plus, 16-cylinder Bugatti Veyron, which needs two people to remove.
During a first drive of the brand new 918, it's as if the car is equipped with a tractor beam that pulls people from unseen corners to take a closer look.
Then there's the unique view out the rear-view mirror shimmering like the heat waves near a running jet engine, thanks to uniquely sloping exhaust pipes pointing to the sky. But the real fun behind the wheel of this car requires a track. At the Ricardo Tormo Circuit on the outskirts of Valencia, just starting out in the pits is an eerily silent experience, less like a super realistic dream and more like the soundtrack to one. Past the blend line, the first firm push of the throttle brings all 887 combined electric and internally combusted horses raging forth. A quick switch of the rotary drive mode selector on the steering wheel brings the car to Race mode, where the V8 roars with every prod of the throttle.
Switching modes adjusts the rear wing's height and angle of attack, as well as the characteristics of the electric motors: instead of coming on at the top of right-pedal travel to encourage emissions-free, electric-only driving, as in the default E-Power and Hybrid modes, the electric motor's forward thrust has been tuned to come in later on in the rev range in the Sport, Race, and ultimate Hot Lap modes, that last one engaged by a prominent red button in the mode dial.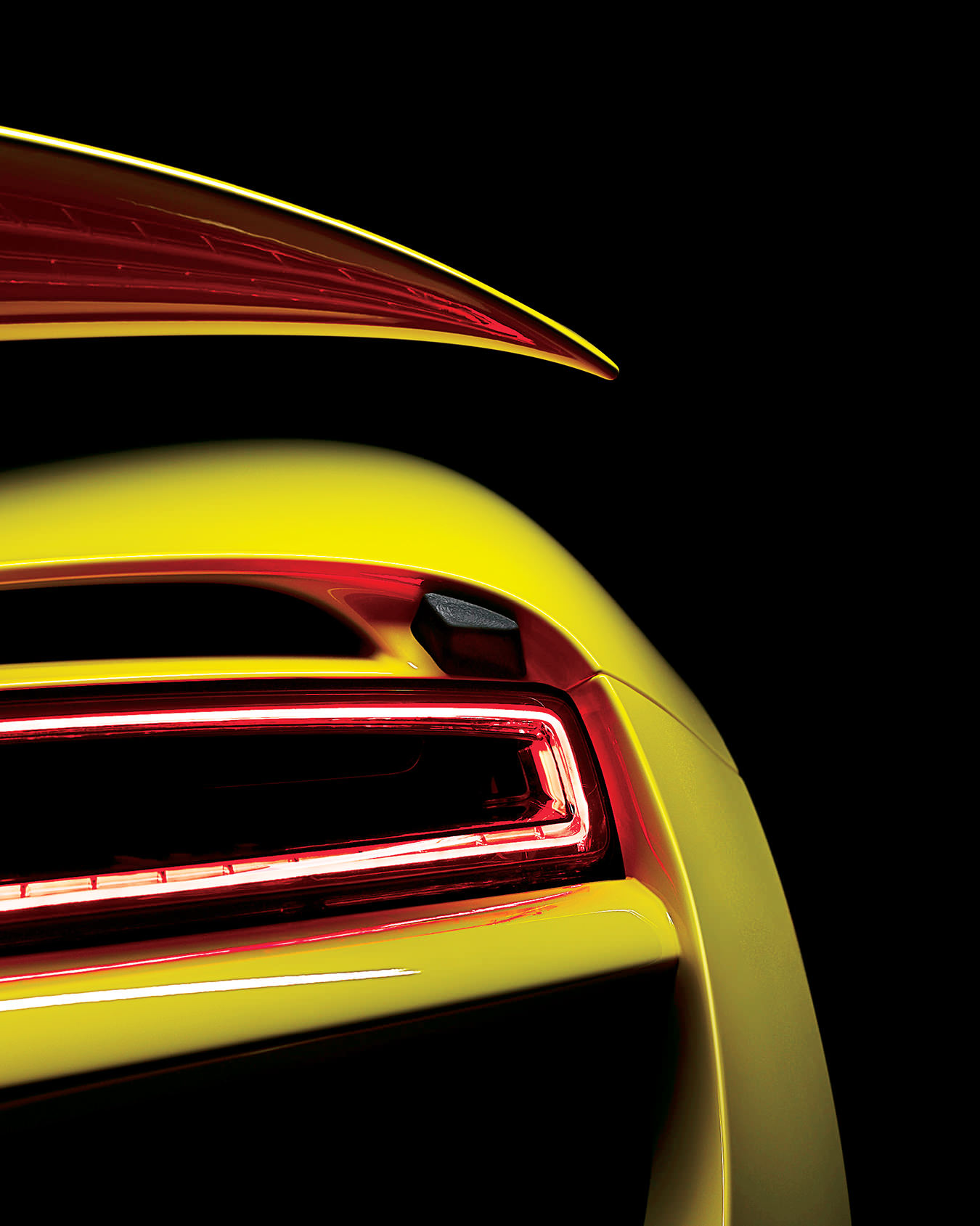 With the majority of this all-wheel-drive machine's vast power going to the rear wheels, the 918 Spyder is entertainingly tail-happy. It's not quite like the 911 Turbo, in which the rear end squirms around under braking at high speeds, but it's easy to break traction with the 918's rear wheels coming out of a corner if you're not careful with your right foot. About 80 per cent of total power goes to the rear axle, with torque-vectoring control of its AWD on both axles—plus the rear wheels also turn slightly to provide all-wheel steering.
The 918 Spyder's track-tuned stability control allows a fair bit of sideways oversteer before it helps keep you in line, though the system chops power not as seamlessly as Ferrari's new Side Slip Angle Control system used on the similarly fine-handling but much less powerful 458 Speciale. Top speed for the 918 Spyder is listed at a lofty 345 km/h, slightly lower than its McLaren P1 (350 km/h) and LaFerrari (over 350 km/h) rivals, all members of the shiny new category of million-dollar-and-up hybrid supercars.
As with any plug-in hybrid, it's worth noting its remarkable real-world fuel efficiency. Sure, we didn't get close to its official 3.1 L/100 km fuel economy estimate, but in about 50 kilometres' worth of bumper-to-bumper city and slightly frolicking highway driving, the 918 Spyder's computer reported a very reasonable 9.4 L/100 km overall average. Those are mainstream mid-sized V6 sedan numbers, and considering how we pushed it on the highway, it's likely closer to what a sporting compact four-seater would achieve if driven in the same rev-happy way.
On a full charge, which takes two hours with a standard electric-vehicle charger or just over six hours plugged into North America's usual 120-volt outlet, Porsche estimates 16 to 31 kilometres of electric-only driving is possible. Judging by our experience, it'll likely more often come in closer to the former than the latter, as it's very tough to keep a light foot with this car, though there's extra motivation to do so here because the big engine comes on with a thunderous bellow that's far from understated.
Yes, the Porsche 918 Spyder starts at a mind-boggling $845,000 (U.S.)—but it's still arguably a "value" option next to its Formula One–battling Ferrari and McLaren seven-figure-plus counterparts. At approximately $929,000 for the slightly lighter and quicker Weissach edition, it is a statement vehicle on the very bleeding edge of what it means to be a modern hypercar: hyperfast and hyperexciting.