"It's not the normal concept of Thailand," Philip Paxman says as we drive through jungle toward Kanlaya's Eyrie, the far northern getaway he opened with partner Kanlaya (Gail) Opothisit in the autumn of 2013. Remote, stylish, and sited on a steep mountainside near the Burmese border, it redefines what it means to escape it all—and have paradise waiting for you. Opening massive Rajasthani ironwood doors discloses traditional Lanna-style peaked-roof architecture, descending terraces, pools, and broad stepping stones, all set high on a rocky promontory with wraparound views of thickly forested mountains.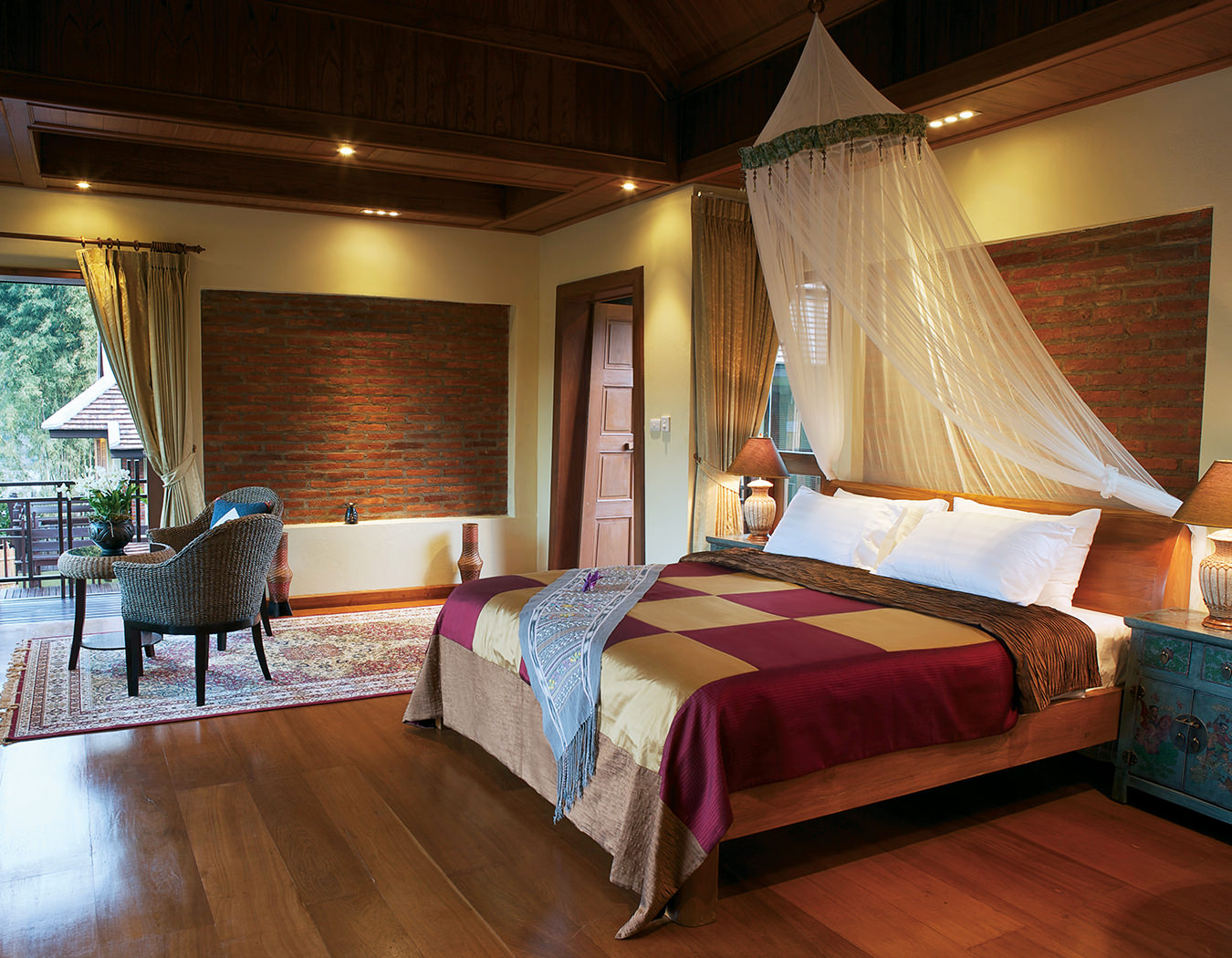 Even on the first day, I see aspects of Thailand that travellers rarely do. Muam Pam, Opothisit's village eight kilometres upstream along a deeply rutted track, is famed for its weaving. As I chat with her centenarian grandmother, women emerge from bamboo huts bearing lengths of hand-loomed, naturally dyed cotton embellished with white seeds. Down the road, a man sorts garlic cloves on a bamboo tray. Everyone, it seems, is a cousin, nephew, or niece. Communal, familial, embracing: for a Westerner, this is a privileged glimpse into an ancient culture.
Crafts are the root of Kanlaya's Eyrie. When she was 17, Opothisit began selling textiles from her village, saving and working hard to purchase the spectacular piece of land she had spied close by. A move to the U.K., a meeting with Paxman, and the combination of his business acumen and her innate Thai instinct for beauty—all eventually led to the building of a retreat where all materials are handmade, right down to the beds and floorboards. The couple also introduced enviro-protective concepts like composting, storm drains, and erosion prevention.
Orange blossom oil scents my swooningly romantic bedroom where a hand-painted Lanna wedding party adorns a massive folding screen. The solar-powered Jacuzzi on the private deck looks way down to the majestic S-bend of the river—and across to Myanmar (Burma). I have never had a massage in a setting like this, I think, as skilled hands soothe and stretch, and the view overhead changes, the sky fading from bright blue to indigo, pinprick stars replacing swooping flocks of swifts.
Next day, I'm market-bound. Roaming along Soppong's main street I see live chickens, dark pungent discs of dried soya, fish pastes, and unconscionable amounts of scarlet chilies and bundled greens. Later, I join Opothisit's sister, Sinouan, for a culinary lesson. Key ingredients are local: pork marinated with typical Thai aromatics, packed into lengths of bamboo. Banana leaves form "lids", and cooking is done on a charcoal burner where the dish steams for four hours. Tender, aromatic, the result is delicious.
Guests can opt for local or Western food, cooked English breakfasts, and typically Thai papaya and mango. Produce increasingly comes from the garden. In a region this faraway, even nomadic foodies make fresh discoveries: intensely flavoured round mushrooms; a supple tofu sauce. I also fall hard for a Burmese noodle soup that is customized with deep-fried garlic, sesame seeds, chopped meat, and bean sprouts.
Life is part Indiana Jones movie, part sybaritic retreat. As the days pass, I explore nearby caves and far-flung villages accessed by dirt roads built along crests. I go river fishing, donning the rubber shoes I bought in Soppong and walking upstream, kicking as I go, to flush fish forward into the large net held in front. I could have gone kayaking or trekking, delved into local flora and fauna, or experienced a Buddhist blessing. Truth be told, I spend many hours just basking on the deck or in the grounds, napping, reading, or making notes: "Mist fades as sun climbs. Dew on purple bougainvillea. Everything verdant beyond belief. Roosters, gentle clatter of huge leaves; otherwise, silence."
Days swing between ease and activity; evenings often conclude around the firepit. "Be ready to leave before dawn tomorrow," says Paxman one night. And we are, off to a small bamboo hut on a hillside overlooking the mountains of Myanmar for a dawn that starts as a scarlet thread and evolves into opaline colours. People in tribal dress arrive from the nearest village. A fire is lit. Bacon and eggs sizzle over charcoal. As Paxman has promised, this is a different side of Thailand.
June 18, 2014
Updated: August 8, 2014