Eres Swimwear and Lingerie
For a recent trip to the Seychelles, Valérie Delafosse packed 15 swimsuits. By any measure, that's a lot. But for Delafosse, the artistic director at Eres, a beach vacation is different than it is for the rest of us. In the natural light against sand and sea, Delafosse can evaluate next season's colours and ensure that the suits are performing up to the Eres standard.
"Often, when you see women getting out of the water, the suits are wrinkling and drooping—the suit doesn't follow the body, and there's no longer any definition," she explains. Since joining Eres in 2007, Delafosse has applied her design vision to what is widely considered the gold standard in swimsuit material: Peau Douce.
This material is akin to Lycra, but is specific to Eres, and Delafosse says its exact composition is a company secret. Aided by polyamide, its simultaneous density and softness (hence its literal name "soft skin") enhances the body's shape without the thickness of, say, neoprene. "You lose a size in these suits," says Delafosse. The other Eres material, called Parachute, is lighter and less form-fitting, and it dries within 10 minutes. All Eres suits are made of either one material or the other.
It would seem that the challenge for Delafosse is how to continually create the desire among women to purchase new swimwear despite the fact that these suits wear so well. From the Eres showroom in Paris—the office occupies an old electrical factory in the 11th arrondissement—Delafosse says that the carefully considered colours contribute to demand season after season. "I feel totally free in my head to go in a colour direction you might not normally see at the beach," she says, describing the newest "acidic" hues as "fluorescent without being fluorescent." At the other end of the spectrum are her neutrals—muted shades of grey and sand—that convey timeless chic.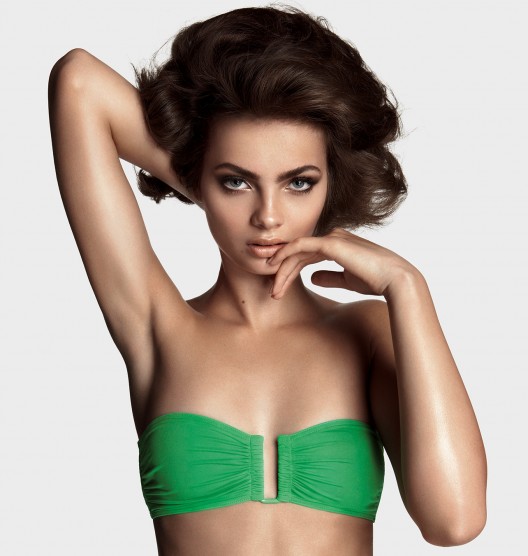 When Delafosse arrived at Eres, she already had years of experience in swimwear and lingerie design. Two decades ago, Delafosse worked under Claude Montana when he was overseeing haute couture for Lanvin. Montana's sense of modernity, "graphism", and cut left an indelible impression. Delafosse was also one of the co-founders of Princesse Tam Tam, a youthful, flirty lingerie line that is now among the most ubiquitous high street names in France.
With Eres, Delafosse stepped into a brand that had already established itself as a swimwear leader. It was started in 1968 by Irène Leroux, who was determined to modernize the bathing suits sold at her family's boutique on place de la Madeleine. For the past 45 years, Eres has maintained a balance of form and fashion, always eschewing the flashy aspects of luxury.
Few people realize that Chanel has owned Eres since 1996. Notwithstanding Karl Lagerfeld's contribution to a campaign in 2010, Eres remains aesthetically autonomous. What they share, says Delafosse, are the same "concerns about quality and perfection." There are now 31 Eres boutiques worldwide, including one in Toronto's Yorkville.
As someone who prefers the notion of l'air du temps over trends, Delafosse explains that certain influences inevitably inform her collections. The sporty perforated panels, technical panelling, and zippers that appear on certain suits this season can be traced back to the 2012 London Olympics. It is purely coincidence that the black patent-leather-effect straps (they're actually resistant silicone) appearing as a new decorative detail on a blush-pink one-piece so closely resemble the black strips of tape that Christopher Kane applied to his blush-pink dresses for spring. "I try to push the style—always making it different, but always keeping it Eres," Delafosse says. "I seek to capture the mood of the moment that I apply to the swimsuits."
With the lingerie, the designer notes that she has much more freedom concerning selection of materials. "It's a gigantic difference—I can do more flou with lingerie," she says, using a couture term for fluid materials (versus strict tailleur tailoring).
This season, Delafosse has, for the first time, created a capsule collection, Sunwear, of warm-weather essentials to go from beach to cocktail bar. Among the standouts: a colour-blocked dress with wraparound waist sash and kimono sleeves, a full-length silk caftan with an intricately beaded neckline, and a breezy jumpsuit. But Delafosse maintains that she has no interest in pursuing a full clothing range.
She happens to mention her interest in furniture design—chairs specifically—because it demands a similar level of structure. When I propose that she could create an Eres chair, Delafosse laughs off the idea. But then she muses that it would be a folding chair with a Peau Douce or perforated Parachute seat. "That would be awesome," she exclaims, giving it more thought. And actually, it's not such a stretch.