Hollywood glamour is back, you see. And poised at the forefront of this design movement is none other than Kelly Wearstler, Los Angeles's lady of luxury. While decor critics applaud her eclectic juxtapositions of modern and neo-classical styles, her followers TiVo the Bravo network show Top Design, where the ex-model/now-mogul supplies fashion fodder for an endless array of pop-culture blogs. At age 40, Wearstler is the face and mastermind of KWID (Kelly Wearstler Interior Design), an architectural-design firm rapidly approaching superstar status.
The perfect setting in which to get a feel for what, exactly, Wearstler does, is her new mansion in Beverly Hills. The multi-million dollar property once served James Bond movie producer Albert Broccoli; films were previewed in the pool house. With its tall gates, tennis court, oversize pool and sweeping view of La La Land, it's every bit the Hollywood dream.
Wearstler aficionados are already intimately familiar with her previous digs, the Hillcrest Estate, which was infamously documented without text in her book Domicilium Decoratus, a follow-up to Modern Glamour: The Art of Unexpected Style. In it, Wearstler is photographed performing various domestic rituals—watering the lawn, knitting in bed with her dog Brea, perusing the library—all the time clad in haute couture. "My home is my laboratory," she says.
Wearstler's husband, Brad Korzen, is the CEO and founder of Kor Hotel Group; before the two were married, Korzen had hired Wearstler to redesign a newly acquired mid-century property, which would become the Avalon. Since its opening in 1999, discriminating circles have enjoyed its swank poolside dining, private cabanas and discerning accommodations. Avalon put Wearstler on the design radar and secured her a spot in the hearts of critics, which eventually lead to two more Kor hotels: the Viceroy and Maison 140. From there, Wearstler launched national and international projects, expanding even further into nightclubs, restaurants and private residences.
Most recently, the Korzen-Wearstler synergy transformed the Tides South Beach, a 1936 art-deco icon dubbed "the Diva of Ocean Drive", into a retro-modern waterfront haven. Next year, the power couple will unveil another creative partnership, which will include the Viceroy Anguilla and several other locations—including a Vancouver property, the Loden—over the next two years.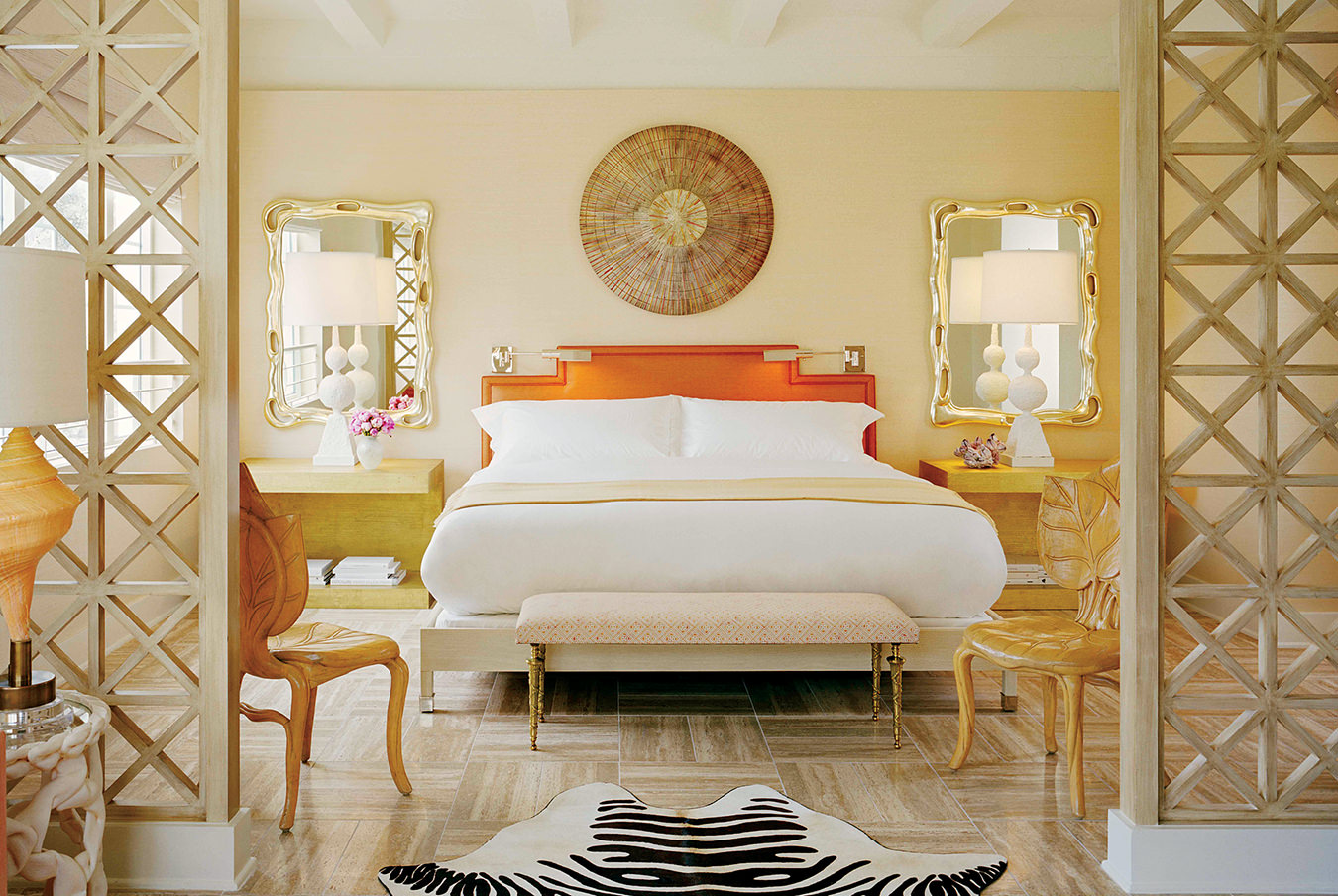 Clearly, the success of such properties is due largely to Wearstler's inherent aesthetic sensibility, but it also comes from her keen social understanding. "A hotel is a place of heightened expectations," she says. "A guest wants to feel a sense of escape when they visit a new place, so I aim to offer a piece of fantasy with each hotel I design."
Wearstler recently launched her eponymous carpet collection at the Rug Company on Melrose Avenue. The debut marks the establishment's first alliance with an American interior designer, putting Wearstler in fine company with Vivienne Westwood, Paul Smith and Diane von Furstenberg. Besides being influenced by the art-deco movement, nature and op art, Wearstler says, "I gathered inspiration from a range of different sources—from my collection of vintage trims and wall coverings, to the tiny details of buttons that I found at an old haberdashery in Paris, to the natural textures and contours of a beautiful seashell."
But this is not the first time Wearstler has ventured into the retail arena. The Kelly Wearstler Boutique opened last October in Manhattan's Bergdorf Goodman, where she sells her exclusive line of home accessories, including marble and onyx dishes, slightly askew gilded eggs, and brass and chrome kaleidoscopes. Inspired by vintage finds (she takes up to seven "research trips" a year), Wearstler says, "I recognized a void in the marketplace for unique decorative objects." Following in the footsteps of such fashion icons as Gianni Versace, Giorgio Armani and Ralph Lauren, all of whom have parlayed their clothing collections into lifestyle empires, Wearstler is expanding her interior-design vision in the lucrative retail direction, which will include table linens, pillows and bedding. Eventually, the fashionista hopes to design a eponymous line of clothing. Other things on the horizon include teaming up with Groundworks at Lee Jofa on graphic fabrics and unique trimmings, and with printer Cole & Son on haute wallpaper.
Add to that another design book—this one showcasing her new home—and it all exemplifies perfectly what Wearstler does so well: taking apparently unrelated things and making them work together, seamlessly.
Portrait by Mark Edward Harris. Hotel room photo by Annie Schlechter.