Count Lorenzo Rossi and Birks
Gracing one full side of Phillips Square in Montreal is the stately, elegant Birks flagship store, boasting coving and detail work that belies its 19th-century origins. It is today a lovely space to shop in, to browse among the products, including the company's own in-house designs, works by commissioned, highly respected jewellery designers, and signature partnerships with watch and fine-writing instrument companies. This day, in a spacious office above the store, Count Lorenzo Rossi di Montelera sits comfortably, a full day's worth of meetings stretching out before him. But there is time for a little coffee and conversation first.
Dr. Rossi has been in the luxury business for a long time. He has been part of Regaluxe Investment, formerly known as The Borogesia Group, since he began his career. A large part of that was with Martini & Rossi, the illustrious aperitif manufacturer, which includes such brands as Asti, along with its three versions of the vermouth that became not only a brand but a household name. The company is now a textile and industrial manufacturing company, in large part, but for Dr. Rossi the investment in luxury brands was always of great interest. "For the first 20 years of my career, I was one of the directors of the company (Martini & Rossi), certainly. But in the late 70s and early 80s, we began a venture capital business, and investing in luxury goods. That's how we came across Birks." Dr. Rossi's career has always had a luxury goods component to it, then, but the purchase of Henry Birks & Sons, in 1993, marked a new direction, and was not without risk.
Birks had already applied for bankruptcy protection, and was perilously close to collapse. For Dr. Rossi, though, Birks was a rare thing: "The brand loyalty to Birks was absolutely profound. These kinds of brands are extremely rare in the world." Certainly, the Birks name, since its inception in Canada in 1879, has represented quality, along with design innovation, service, and to some degree, exclusivity. We add "to some degree" because, if anything, the company's eventual push towards a high of 225 stores, multiple products, and perhaps most interestingly, lower-end jewellery, led to the state of affairs of 1993.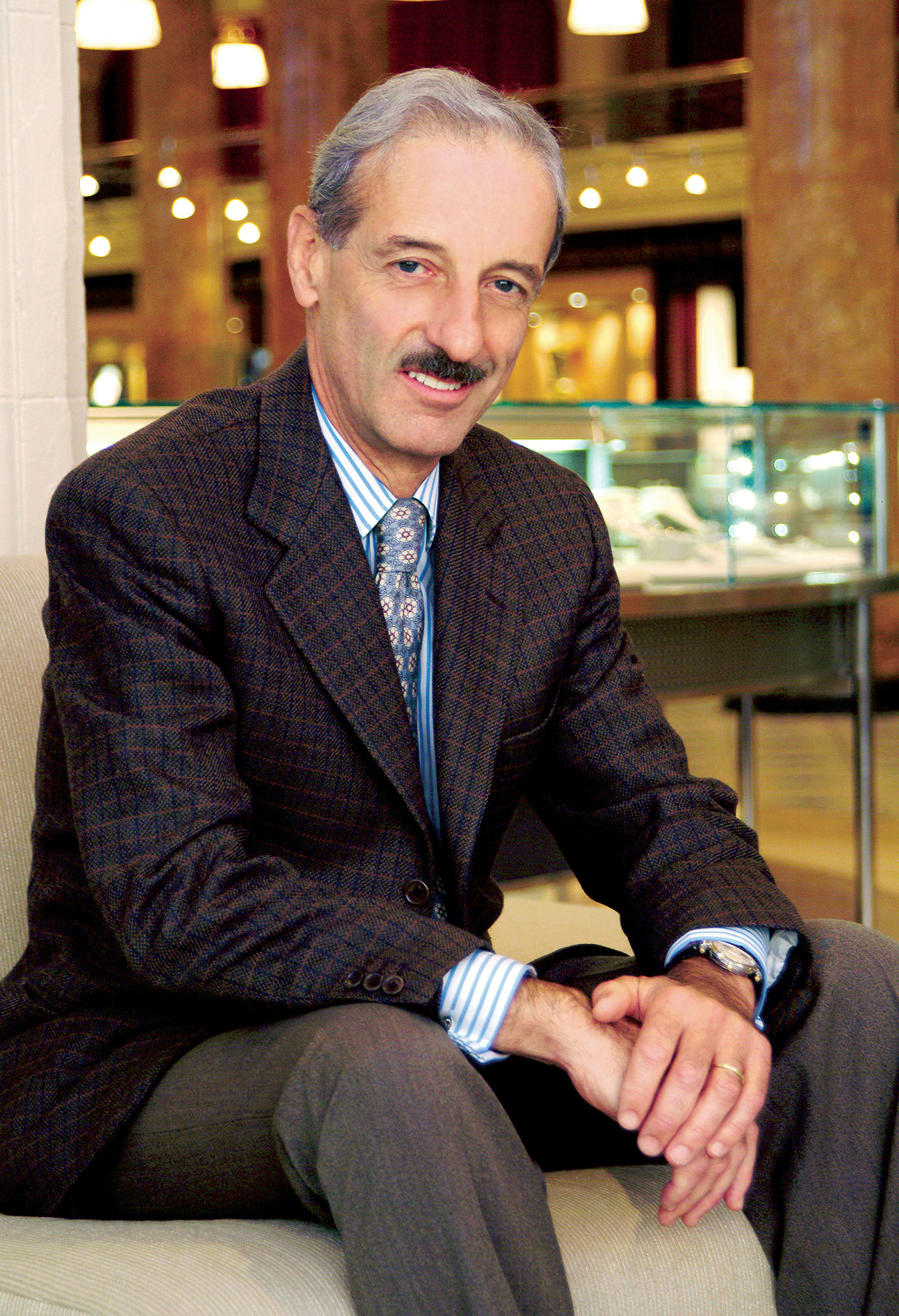 Dr. Rossi smiles, a bit ruefully, and says, "It is true many of its loyal customers were no longer really shopping in the stores. They were buying in London, in Paris, in New York. But with the loyalty, I believed we could bring Birks back to health." He discerned, then, a brand awareness that was not translating into retail sales, but was nonetheless tangible. "It turned out that we began receiving letters from all over the world, from Birks customers who were glad we had come in. They wanted to see the brand succeed once more." He pauses momentarily and adds that "The same principles, of focusing on brand identity, I have applied at Birks." In concrete terms, this means consolidating the product lines and "Much more focus on the high end." It means also that there are now 39 stores, or "luxury destinations" as the company describes them.
They have begun working with illustrious designers, dubbed "Signature Designers", including Canada's own Tony Cavelti; Jose Hess, from Colombia, and who has made a significant name for himself in the United States and around the world; Michele della Valle, who is native to Rome but works out of his studio in Geneva; and Esty, from whose studio on the French Riviera have emanated original, hand-worked pieces for many years.
There are "Prestige Brand" associations, and while the list is a bit too long to recount here, it is an impressive one, that includes Chopard, Cartier, Rolex, MontBlanc, Patek Philippe and Bulgari, just to name a few. This is all part of a considered and sustained commitment to increase exclusivity, and to reinvigorate the company's status with its loyal customers as a brand that can be counted on for prestige and value.
"The point is we can compete. And it is not just the product, but the shopping experience."
So far so good. Dr. Rossi also oversaw the purchase of the southeastern United States-based Mayors (more specifically, Florida and Georgia), which had similar positioning in its market to that of Birks in Canada. The idea, eventually, "although it takes a lot of time, much long-range planning", according to Dr. Rossi, is to expand the brand. That brand is now officially known as Birks & Mayors. Market expansion will be extremely gradual, and focused.
For all the talk about luxury branding, the aspect of the company that Dr. Rossi keeps coming back to, and the aspect of the Birks & Mayors brand that he deems eminently exportable is, simply, "Service." I check to make sure this is what he focuses on. "Yes, absolutely. Service. Birks has to be the very best at customer service." He contemplates this for a moment. "You can take two identical products and put them in different surroundings, with different service, and the results will of course not be the same. If we don't have design and style, it is hopeless, yes. But without the branding, it is also hopeless. Part of the Birks branding is the customer service, the attention to detail, the excellence of the boutiques and the staff." It is clear Dr. Rossi understood what he was purchasing in Birks, and clear also that he knew what had to be done to make the company viable once again, a force in the luxury market. "The 90s were a different time, and things have improved significantly. In Canada, there is a move towards luxury, an appreciation of it, and the client is more sophisticated than ever."
This all means that the company must adapt, but must decide which direction to focus on. Dr. Rossi continues, in his soft-voiced, extremely thoughtful and informed manner. "The structure of the business has changed dramatically. We see companies being more concentrated, and this is what we have done with Birks. In the early 90s, fine jewellery was a very small part of the business. I'm not saying it was wrong at the time, but it was not the way of the future. We have gone significantly upmarket." It would be interesting to walk through any major urban Birks store today, and then be able to go back a decade, or a decade and a half, and walk through that same location as it was then. The differences would be striking.
Dr. Rossi continues: "The point is, we can compete. And it is not just the product, but the shopping experience. That is one of the strong points of the company. We are investing even more in staff education. It is a gradual process, but a necessity." For the two companies now rolled out as one, Birks & Mayors has a lot more assets than the products they sell and the physical plants they sell them from. Dr. Rossi: "The management is very high quality. Expansion of the Birks brand, even outside of Canada, is possible because of this. Of course, we insist on only the top designers. And the emergence of Canadian diamonds is becoming more and more important as well." He does not, unsurprisingly, lack confidence about the company. "The competition is often lacking on the quality of the staff, and the service, which ultimately leads to a lack of trust on the part of the consumer." This has lead to a pretty strong performance over the past few years. Birks & Mayors became a publicly held Canadian corporation in 2005. Net sales for fiscal 2005 increased 10.6 per cent, to $239.3 million. Gross margins improved significantly, and, as late as the November and December holiday buying period of 2005, net sales climbed 17 per cent over the previous year. These are all very tangible numbers, and very encouraging.
The focus, though, is clear. Will they consider custom design, for that extremely special occasion? Well, yes and no. "I think of it as added value. There is custom design, beautiful stores, and high quality shopping environment, a very high quality experience, but custom design will not be a significant part of the business, ever. We had decisions to make in terms of positioning, and we did begin to concentrate on the high end. But the service levels had to continue to grow, to be the best." When the discussion is of staff education, that includes product knowledge, and proficient, even sensitive on-the-floor work, and it also includes a well-rounded knowledge of customers' expectations and needs.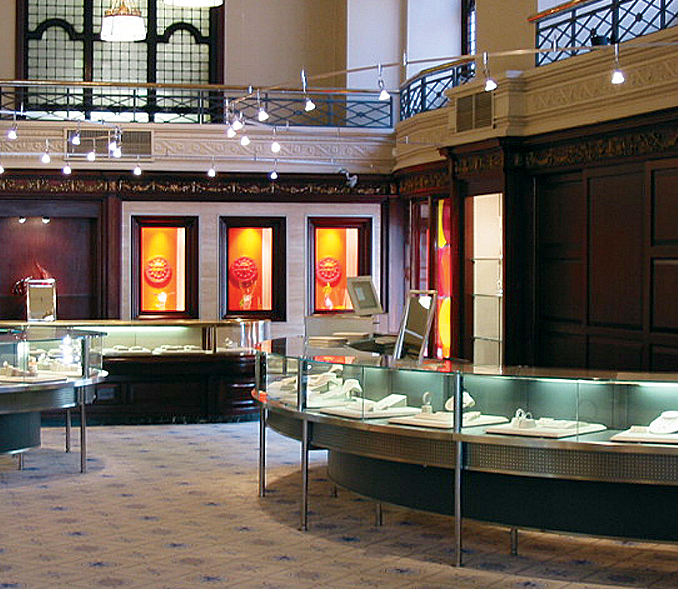 With a client base that is, as Dr. Rossi describes it, "more sophisticated than ever", and often accustomed to shopping for high-end jewellery in the world's major urban centres, there has to be a knowledge that exceeds what this kind of client might expect. This must also exceed what clients might experience at any of Birks' competitors. As Dr. Rossi puts it, "The brand was certainly possible to fix, but we had to compete against a lot of new companies."
When asked to look into the future, Dr. Rossi is not hesitant at all: "Over the next 10 years, well, not a lot of change, actually. More styling, more of a share in the high-end merchandise. But Birks is very well-positioned in Canada." So well, in fact, that expansion remains a tangible option. Just think of it: an illustrious Canadian company, on the brink of financial disaster, brought back into the black, and on the verge of exporting that very Canadian area of expertise, customer service. Even in the world of luxury goods, that remains an elusive element, except, most likely, at any Birks stores you may walk into.
All photos courtesy of Birks & Mayors Inc. ©2006.