Bjarke Ingels Group's Unzipped Pavilion in Toronto and Vancouver
Designed in 2016 for the Serpentine Galleries' annual Serpentine Pavilion exhibition in London, the extremely photogenic "unzipped wall" pavilion by international architectural firm Bjarke Ingels Group is on its way to Toronto and Vancouver. Before arriving to its permanent new seaside home near Vancouver's 2010 Olympic Cauldron in 2019, the Unzipped Pavilion—which was arguably one of the Serpentine's most successful installations to date—will travel across North America, stopping in New York and Toronto.
Some background: each year, the Serpentine Galleries commission a temporary summer pavilion in Kensington Gardens, crafted by an international architect who has yet to build on British soil. Announced annually in February, the winning architect has a mere six months to fully finance and deliver their design in time for the annual June opening.
The inaugural 2000 Serpentine Pavilion was designed by the late Zaha Hadid as a favour to the Serpentine Galleries, which at the time, had only one location (the second Serpentine Sackler Gallery, also designed by Hadid, opened a few years later in 2013). The visionary Iraqi-British architect created an all-white marquee tent-inspired structure. Marked by a dramatic triangulated roof, folds in the pavilion's angular architecture dipped down to the ground, organically dividing up the spaces inside.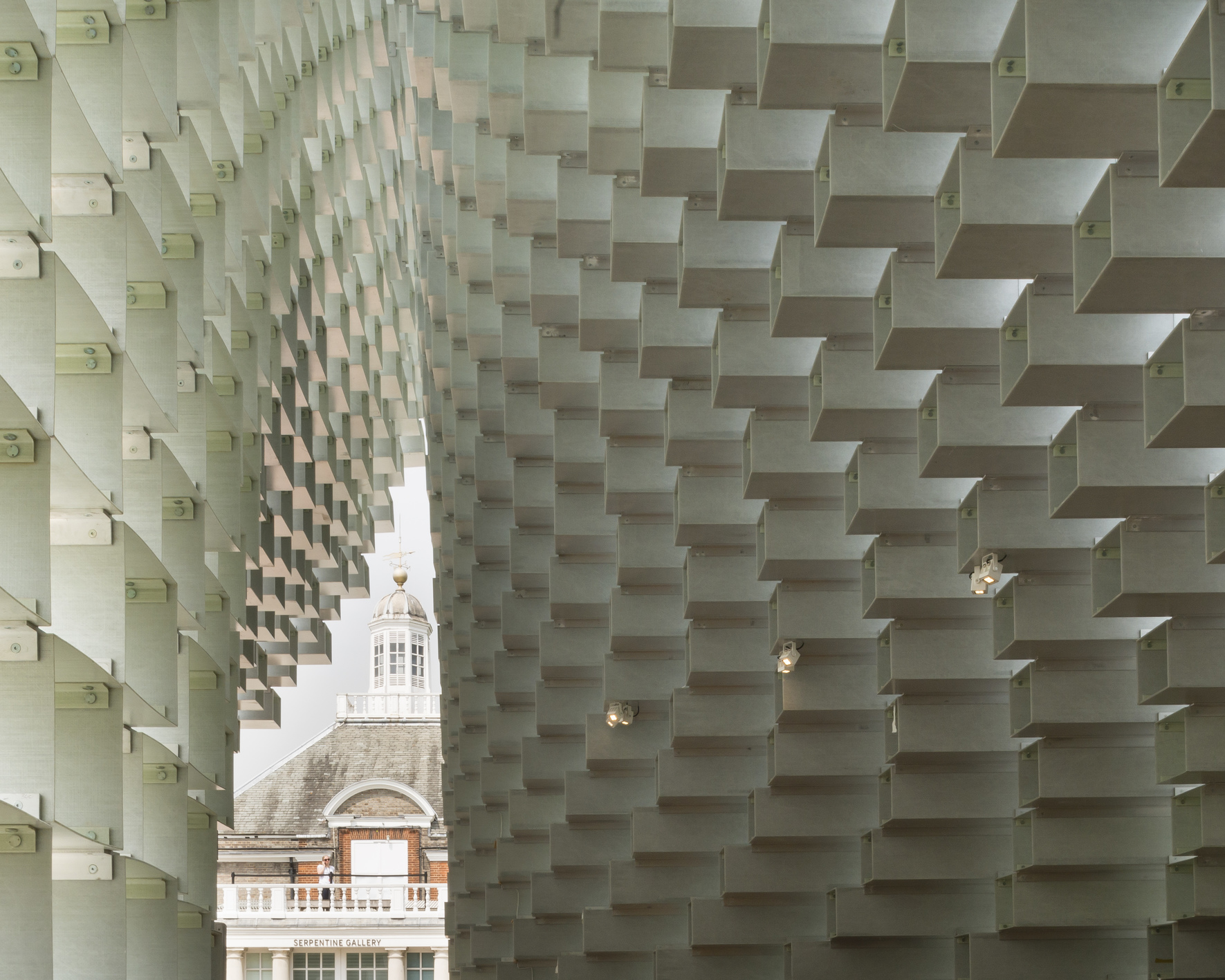 Commissioned as a provisional space in which to hold the original Serpentine Galleries's 30th anniversary festivities, the first Serpentine Pavilion was designed to stand for one day only. On the night of the event, however, the pavilion was deemed impressive enough to remain throughout the summer. And thus, somewhat by chance, a new design exhibition was born.
For the 2016 pavilion, Bjarke Ingels took the most basic architectural structure—the humble brick wall—and aesthetically "unzipped" it, turning it into a tent-like structure shaped almost fluidly, like a blob of whipped cream rendered in 8-bit animation. Compiled of a stack of fibreglass bricks, the 541-square-metre structure is a testament to the power of simplicity. Unfurling from the bottom up, the semitransparent wall pulls apart, creating an atmospheric passageway. Totaling 1,802 bricks in all, the pavilion's modular structure was in fact designed by BIG to ultimately be sold and transported. The pavilion will be recreated in downtown Toronto on the future site of the King Street West residences, one of Vancouver-based developer Westbank's collaborations with BIG. Westbank was a major sponsor of Ingels's Serpentine Pavilion and is also BIG's development partner for the upcoming Vancouver House residential tower. Once relocated to Vancouver, the BIG pavilion will be located at the foot of Westbank's Shaw Tower headquarters in the Coal Harbour neighbourhood, where it will become another example of the corporation's dedication to diversifying Vancouver's contemporary architectural features.
_________
Never miss a story. Sign up for NUVO's weekly newsletter.